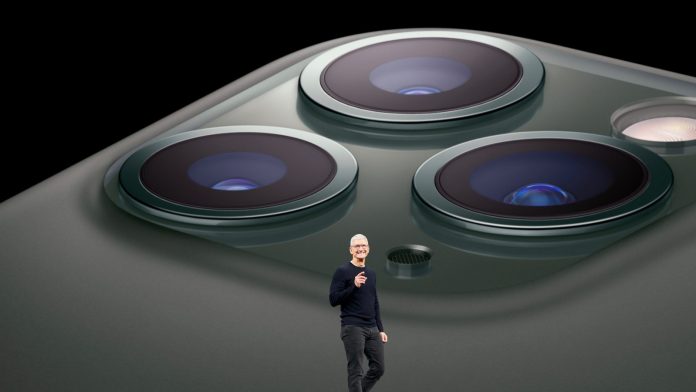 Apple (NASDAQ: AAPL) debuted the iPhone 11 yesterday, revealing to consumers and investors alike their new phone (or phones, in this case) in front of a rowdy Cupertino, California crowd. The more premium iPhone 11 Pro ($1,000) boasts a whopping three-camera apparatus, allowing owners to take almost professional photos with its ultrawide-angle lens.
The regular ol' iPhone 11 – valued at $699 – only has two rear-facing cameras, but still offers a few more features than the iPhone 10.
AAPL shares rose 1.2% following the announcement, marking the best post-iPhone reveal trading session since the iPhone 5 was released in 2012.
And though investors may be mildly cheering the 11's release – slated for September 20th – some analysts are concerned that Apple still hasn't learned its lesson.
Because the iPhone 11, despite beefing up its camera arsenal, won't be 5G capable.
And that might be a deal-breaker in China, where Apple continues to scare prospective buyers away via a chronic case of "sticker shock". Each year, Tim Cook goes on stage and sings the praises of his company's new $1,000 phone, causing Chinese consumers to recoil in frustration.
It's a cycle that, over time, has slowed Apple's international iPhone sales growth. With the West looking increasingly "tapped out", Cook & Co. are searching for ways to penetrate the Far Eastern smartphone market.
Coming forward with a soon-to-be-obsolete, $1,000 iPhone won't do it. Apple's expected to make next year's phone 5G capable, meaning that they'll be at least one year behind in the 5G smartphone arms race.
The 5G compatible Verizon Moto Z4, for example, launched in the U.S. back on June 13th for a much more modest $499. It doesn't have the photo-snapping power that iPhone 11 does, but it comes close enough to make the Z4 a better value for pennywise shoppers.
Especially in China, where a strapped-for-cash economy has been battered by American tariffs.
In January, Chinese retailers actually slashed prices on last year's iPhone – a move that was officially acknowledged by Apple a few months later.
"Apple, after ten years of operations in China with local manufacturing, still commands a ~20% premium which is quite high for a market less developed in terms of per capita spend than U.S.," said Neil Shah, research director at Counterpoint Research.
"So, while the market has grown, Apple's share has been declining and the user base is stagnant coming from new phone additions. Most additions are from refurb, second hand or used phones in circulation."
Much like luxury cars, iPhones seem to drop rapidly in value as they age. Comparatively more so than other smartphone brands. The refurbished phone market for Apple has proven to be a significant boon to the company, as it allows them to dump recycled iPhones at bargain prices.
All while keeping consumers in the "Apple family".
Still, though, some analysts believe that without 5G capability, the iPhone 11 is doomed to fail in China, where 5G networks could go online as early as this year.
"While I didn't expect it, I think the lack of a […] 5G modem option will hurt sales in China," wrote Patrick Moorhead, founder of Moor Insights & Strategy, in a note yesterday.
But not everyone's ready to write off the iPhone 11 quite yet.
"The lack of 5G is little surprise. Whilst it stands to impact Apple in key markets such as China, Apple has opted to echo its approach with 3G and 4G by waiting for networks to be established so it can deliver 5G at scale with maximum impact," said Ben Wood, chief of research at CCS Insight, in a note this morning.
And though Apple's decision to wait to release their 5G iPhone might make sense long-term, it could end up hurting the company in the interim – something that would show up in the next few earnings reports.
Because if investors find out that the iPhone is still struggling in China, they might not be so eager to snap up more shares of the $1 trillion behemoth.
Even if Apple's side-projects (credit card, music service, etc.) end up doing better than expected.