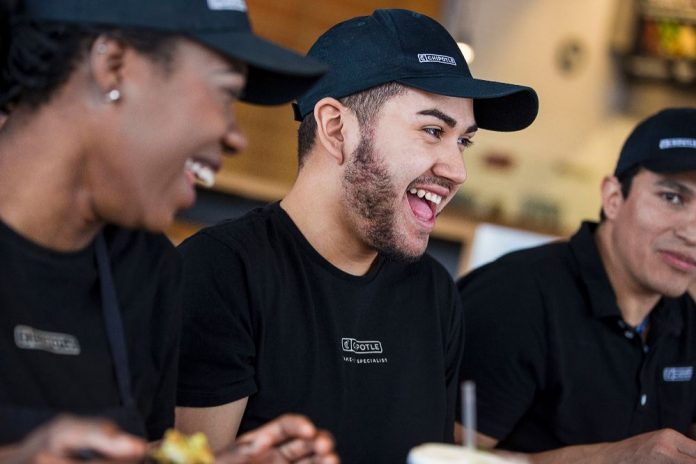 Despite rising steadily all year, Wall Street is still big on Chipotle Mexican Grill (NYSE: CMG), the popular fast-casual burrito joint. One analyst just gave the company's stock a price target of $1,000 this morning, confirming a widely-held belief among analysts that the company has ample room to grow.
With shares currently trading at around $850.00 – an all-time high – it's a puzzling "value" pick from the Street. Buying in at record highs hasn't historically been a good move, after all.
But that hasn't stopped some analysts from expressing major bullish sentiment about the burrito giant. Wedbush's Nick Setyan upgraded his rating of CMG from "Neutral" to "Buy", setting a price target of $980.
Other analysts share Setyan's train of thought, arguing that a $1,000 per share valuation seems likely. However, none of them have officially come out and set their price targets that high.
Setyan stands alone in that regard.
And if CMG does go screaming upwards as predicted, he'll have exclusive "I told you so" bragging rights.
Setyan's not simply trying to get out ahead of the other analysts, though. Instead, he argues that his $1,000 prediction is a no-brainer given the circumstances.
"As the industry transitions toward a larger mix of digital transactions, we believe Chipotle is in a leading position to establish a digital moat," Setyan wrote.
"We not only continue to see near-term momentum as management executes toward this transition, we believe Chipotle is poised to sustain outsize same-store sales and earnings per share growth in the medium to long-term in an industry where a dearth of growth is likely to command an increasing premium."
Chipotle's stock is already up 93% in 2019, and as of midday today, continues to rise. Can their success be attributed to digital sales like Setyan suggests?
The complete numbers on that have yet to come in – Chipotle announces Q3 earnings on October 22nd – but if the recent decision to partner with food delivery services like DoorDash are any indicator, then digital sales could absolutely push CMG shares to new heights.
"We expect loyalty to act as the primary lever behind both adoption and usage, positioning Chipotle at the top of restaurant apps likely to find space on customers' hand-held devices," Setyan wrote.
"We believe digital sales at Chipotle are on a path toward a 30%-plus sales mix exiting 2021."
It's a shocking twist in what's been a massive turnaround for the restaurant chain. Just a few years ago, they were wrestling with rampant quality control issues as hundreds of customers fell ill with food poisoning.
Share prices peaked in 2015 at roughly $760.00 per share as a result, dropping steadily over the next two and a half years. It wasn't until early 2018 that Chipotle started to see progress.
But investors that took a chance on the ailing company back then are now being handsomely rewarded for their patience. Key resistance from 2015 (the former all-time high) has been broken, suggesting that further explosive growth isn't at all out of the question.
Will Chipotle shares make it all the way up to Setyan's $1,000 price target? Crazier things have happened, and if the general market is truly setting up for another rally, there's a good chance that CMG could get swept up in the excitement by trigger-happy bulls.
Regardless of whether or not Chipotle shares actually deserve a 4-digit valuation come earnings season.